Every week I bring my own take on each game and the notable fantasy standouts you should be keeping an eye going into the next week.
Standouts: Those who out did better than their peers
Value: Those who punched above their weight class in terms of price and who I expect to have potential moving forward
Fluke: There's not always a fluke, but if you see a $4.8 defender with 12 points, that's a good sign they're a fluke. I'll make sense of those types of performances and let you know if you should expect more from them or if they're a one-hit wonder.
Dud: This is obvious. Someone you expected a lot from and got little. If you spend $11.0 on Josef Martinez and he scores 3 points, you're going to be upset. I'll tell you if you should've seen this coming and whether or not it's a trend.
---
Vancouver Whitecaps 0 – 2 LA Galaxy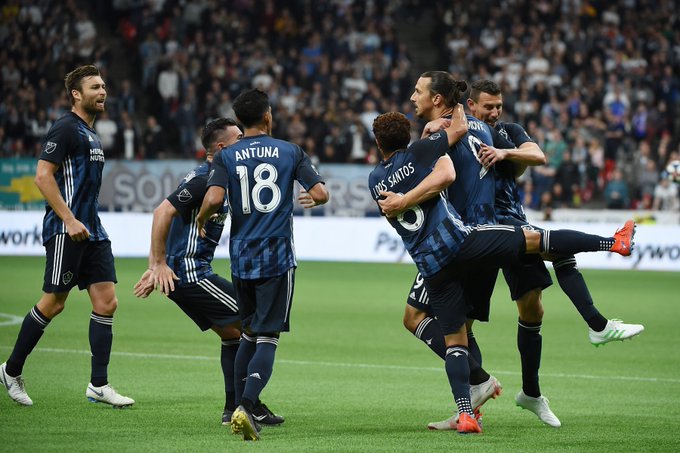 One Sentence (or question?):
Vancouver Whitecaps: They weren't as bad as the scoreline showed, but they do need more from their offense.
LA Galaxy: Ibrahimovic did what he does best, but still I wonder what this team is without him.
Fantasy Standouts:
Elite Performers: Zlatan Ibrahimovic ($12.2) – 13: He's a beast, I don't know what else to say. 1 goal, 1 assist and the heart of the attack.
Value: Sebastian Lletget ($6.9) – 5 points: You've seen him with the national team, it's only a matter of time before he shows a similar threat level with LA. He's certainly on the ball enough (86 passes). Lletget and Corona both offer good value in front of Jona Dos Santos.
Dud: In-beom Hwang ($7.9) – 3 points: After averaging close to 5 points a game through offensive and defensive bonus points Hwang probably suffered from being played out of position. If Vancouver struggles to find a combo that works Hwang could suffer more.
NYCFC 0 – 0 Montreal Impact
One Sentence:
New York City FC: Should've had 2 or 3, we'll see if Heber is the answer up top.
Montreal Impact: No Piatti = 1 shot on goal.
Fantasy Standouts:
Elite Performer: Maxime Chanot ($6.6) – 13 points: a clean sheet, 3 defensive bonus points and over 100 passes. NYCFC looked solid and Chanot was one reason why.
Value: James Sands ($6.1) – 4 points: The 18 year-old is averaging 4/5 points a game through bonus points without the help of any goals or assists. If you're looking to makeup for a dud on your bench, Sands could prove valuable.
Dud: Montreal without Piatti: Sure, they kept a clean sheet. The reality is they shouldn't have and I won't be touching Montreal without Piatti.
DC United 0 – 4 Los Angeles FC
One Sentence:
DC United: DC has a double game week coming up and was likely to rest Rooney anyways, but if they want to be cup contenders they'll need to be capable of threatening LAFC.
LAFC: If Vela and Rossi can play like this consistently, they'll win MLS Cup and carry all of our fantasy teams to greatness.
Fantasy Standouts:
Elite Performer: Diego Rossi ($10.0) – 19 points: 1 hat trick earns you elite performer of the game, but Carlos Vela ($13.3 and 10 points) again deserves a shout for his consistency so far.
Value: Latif Blessing ($8.0) – 10 points: Blessing is a dynamic player that people forget is only 21 years old. As the season goes on expect him to become a more consistent producer to this attack.
Dud: Wayne Rooney ($11.5) – (-2) points: He knew what he did as soon as he did it, what he may not have realized is how tragic it was for his fantasy owners… Remember he's suspended for their Tuesday game in the Double Game Week.
Toronto FC 2 – 2 Chicago Fire
One Sentence:
Toronto FC: They really should've won against Chicago, but Schweinsteiger was all over any sign of danger.
Chicago Fire: They're getting there, if only their ownership/fan situation wasn't so morbid.
Fantasy Standouts:
Elite Performer: The Chemistry of Jozy Altidore ($10.6) – 12 points andAlejandro Pozuelo ($11.0) – 8 points: Pozuelo has absolutely changed this team and his instant chemistry with Altidore makes this even better. It wasn't the 20 point performance of last week, but his desire to win is evident by the bonus points he earned for his defensive work rate this week. Altidore for Golden Boot (if he stays healthy…)
Value: Djordje Mihailovic ($6.7) – 7 points: Mihailovic seems to be learning from Bastian. He was absolutely everywhere in this game earning 6 bonus points for crosses, passes, interceptions, clearances and ball recoveries.
Value: Nick DeLeon ($7.0) – 10 points: Yes, $7 is a lot for a defender, but DeLeon isn't a defender and if you haven't caught on by now, he should be in your lineup. He's become an integral part of this offensive (2 assists) and he's always eligible for clean sheets (5 pts).
New York Red Bulls 1 – 2 Minnesota United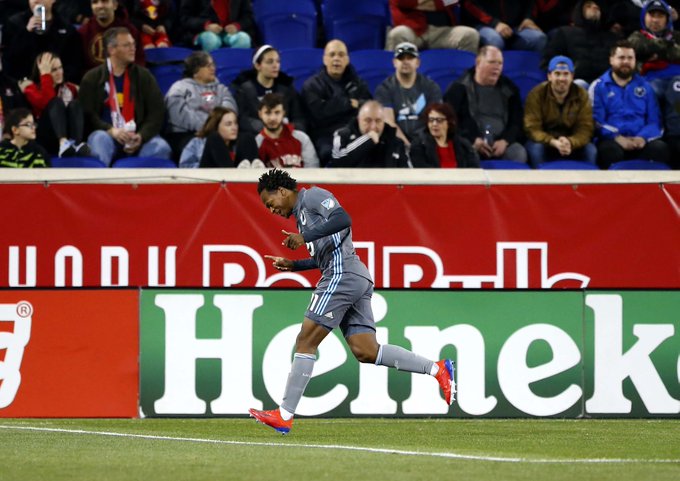 One Sentence:
New York Red Bulls: Ruh-roh.
Minnesota United: This is how you bounce back from losing to a pretty bad Revolution side (and that's without your star forward Darwin Quintero).
Fantasy Standouts:
Elite Performer: Romain Metanire ($7.0) – 8 points: There's no one particular elite performer, however, Metanire gets the spotlight because he's another defender that was deployed in a more advanced role. Metanire should be on your radar.
Value: Abu Danladi ($4.8) – 6 points: Danladi, with one goal in this game, has been pegged as one to watch, now in his 3rd season he might be ready to really produce at the level everyone expects.
Dud: New York Red Bulls: As a fan, I would be a tad bit worried. This is your 3rd consecutive loss and it's not like this is elite competition. A 0-0 draw here would've been fine, but giving up 2 goals to a Quintero-less Minnesota is a problem and one I don't want to go near.
Columbus Crew 1 – 0 New England Revolution
One Sentence:
Columbus Crew: I wouldn't feel great about this result, as Columbus barely produced anything against a New England team struggling to come together.
New England Revolution: Post-match commentary from the Revs camp was a lot of "we bossed that game", "we didn't deserve to lose", etc. One thing's for sure, that 3rd DP Freidel is dangling in front of everyone couldn't come sooner.
Fantasy Standouts:
Elite Performer: Federico Higuain ($8.7) – 8 points: He didn't have the most points on his team, but in a game like this one, he was still able to create something (1 assist and 2 attacking bonus points), which is always valuable in your FMLS players.
Value: Josh Williams ($5.5) – 15 points: Is he the next Gaston Sauro? Solid defensively and a nice aerial finish on a stout Columbus team.
Value: Waylon Francis ($6.2) – 11 points: 4 defensive bonus points is nothing to scoff at and he knows how to get forward.
Dud: Gyasi Zardes ($9.7) – 2 points: This is why it's risky to have goal dependent strikers.
Orlando City 4 – 3 Colorado Rapids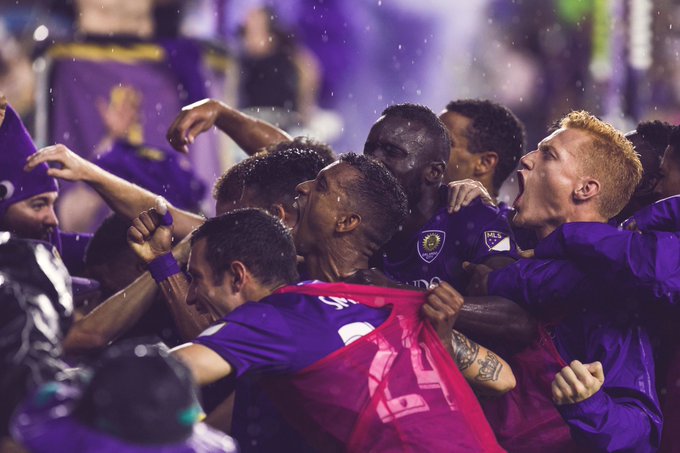 One Sentence:
Orlando City: If you're Orlando, you love Chris Mueller right now, kid brings it off the bench with a vengeance and passion it seems only Orlando City fans have known up to this point.
Colorado Rapids: It's nice to see Colorado involved so many goal heavy thrillers, but what happened to this once resolute defense?
Fantasy Standouts:
Elite Performer: Nani ($9.3) – 15 points: 2 goals and an assist, the star signing that Orlando City craved is finally paying dividends.
Value: Tesho Akindele ($6.8) – 11 points: At this price and on a motivated Orlando City, Tesho could be good for some switcharoos moving forward.
Value: Cole Bassett ($5.4) – 11 points: The 17 year-old is hungry and at that price is a "why not?" on your bench for the upcoming DGW after grabbing a goal and assist this week.
Dud: Defense?…
Philadelphia Union 2 – 1 FC Dallas
One Sentence:
Philadelphia Union: The Union were able to eek out a gutsy 2-1 win at home, which is all you can ask for as a Philly fan.
FC Dallas: The kids are very much alright in FC Dallas (4 teenagers started), as they almost beat (probably should've beat) a full strength Union side despite the massive disparity in match experience between the two sides.
Fantasy Standouts:
Elite Performer: This was a game lacking a star and no one seemed up for the task.
Value: Brenden Aaronson ($6.4) – 5 points: Aaronson is an example of the type of player I love. He always has bonus points. If there's one thing young players can do, it's work hard and earn defensive bonus points (2 in this case). Aaronson can only go up from here.
Dud: Paxton Pomykal ($8.2) – 3 points: This is a bit much to call a 19 year-old who has been averaging 7/8 points a game, but Paxton needed to become more of a focal point for FC Dallas in this game and wasn't able to. Still, I don't expect this to slow him down, but you have to be aware that he costs $8.2 now compared to his previous bargain price.
San Jose Earthquakes 3 – 0 Portland Timbers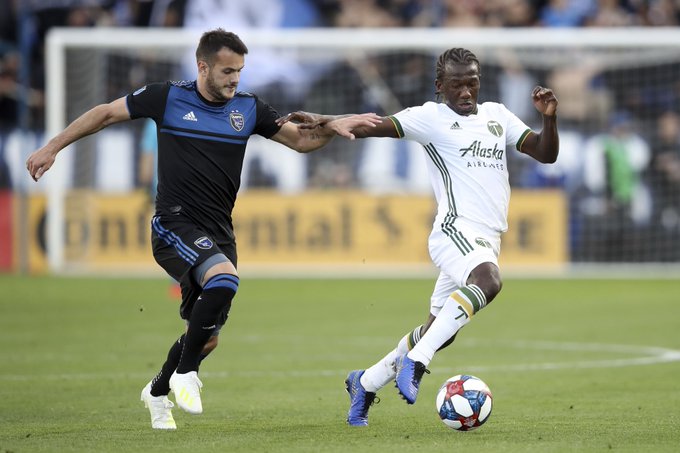 One Sentence:
San Jose Earthquakes: Nick Lima was robbed of a stunner, and what happened to the Earthquakes, it seems Almeyda's passion has finally trickled down and overcome reality.
Portland Timbers: I thought the Timbers were going to struggle this year, but this was just rough.
Fantasy Standouts:
Elite Performer: Cristian Espinoza ($9.2) – 15 points: Absolutely on fire for San Jose. 1 goal, 1 assist and the lifeforce of this offense. Not sure I'm ready for the hype train just yet, but what a performance.
Value: Shea Salinas ($4.6) – 15 points: If you've been around the league for the last decade, you'll know Shea is not a defender no matter what FMLS tells you. Hello clean sheet bonus combined with offensive output!
Value: Daniel Vega ($4.0) – 14 points: The cheapest starting keeper you'll find in the game on a San Jose team that just posted its first shutout.
Dud: Diego Valeri ($10.7) – 1 point: The Timbers look to be in a spot of trouble and now I'm worried about Valeri's mojo after that missed penalty kick. There are better options at this price point until Valeri gets his mojo back.
Seattle Sounders 1 – 0 Real Salt Lake
One Sentence:
Seattle Sounders: It wasn't pretty, but that's what you have to do sometimes.
Real Salt Lake: RSL isn't giving us a lot to work with here fantasy-wise.
Fantasy Standouts:
Elite Performer: Nico Lodeiro ($12.0) – 10 points: In a game that lacked offensive production, Lodeiro was at the heart of everything with 11 Corner Kicks and a banger of a one-time finish.
Value: At this point there are no cheap players left on Seattle, as the defense has held up strong, putting a premium on Seattle defenders and the offense has produced early. As for RSL, the production and lineups are too inconsistent to speak with any confidence. Go follow @JayMLSFI on twitter if you're dying to get RSL guys in your team.
Dud: Victor Rodriguez ($9.5) – 3 points: Victor looked dangerous on the wing, but couldn't seem to get the last pass right or fully connect with his teammates. For what it's worth, he was without Raul Ruidiaz.
FC Cincinnati 1 – 1 Sporting Kansas City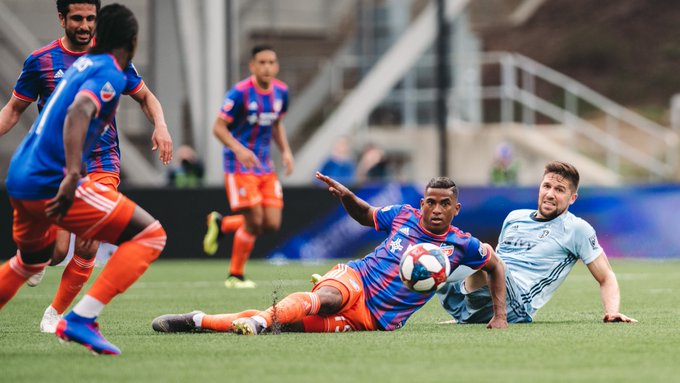 One Sentence:
FC Cincinnati: A late mistake costs FCC a vital home win.
Sporting Kansas City: If you aren't a hardcord SKC or USMNT fan, that lineup shocked you.
Fantasy Standouts:
Elite Performer: This game was kind of fun to watch, but there was no one willing to take control of the game.
Value: Darren Mattocks ($6.4) – 9 points: With Fanendo Adi's off the field troubles, it looks like Mattocks may have earned the starting job for the foreseeable future. If he's going to continue to take penalty kicks, that adds even more to his value as a potential switcharoo on your bench.
Sporting Kansas City: Hard to draw any takeaways from a largely reserve lineup for SKC.