New England Revolution 2 – San Jose Earthquakes 1
Highlights
The New England Revolution scored….Finally. They looked dangerous in the first half, bringing on Davies up top and moving Agudelo out to the wing. Davies was lively getting behind the defense on numerous occasions, but it was ultimately through Rowe that ensured the victory for the Revolution. The Earthquakes got their goal by way of a soft penalty kick given at the top of the box in the second half. They turned up the intensity in the second half, but continued struggl for ideas outside of a dangerous looking Innocent.
Fantasy Standouts
Kellyn Rowe ($8.7): Here's the thing, Rowe was the obvious fantasy standout. However, I don't expect him to meet the expectation he may have just set for himself to many fantasy owners. The Revs just have too many scoring outlets, whether it be through Davies, Agudelo, or Lee Nguyen. That being said if you have him keep him.
Lee Nguyen ($11.0): With the Revs offense starting to click Lee Nguyen's goals will start flowing. He got an assist on one of the goals this weekend and he will be taking penalty kicks in the future. If you want a sure fire option off the Revs and have the money grab Nguyen.
Chris Wondolowski ($10.8): Wondo continues to score just to spite me. I'm not big on him and will continue to suggest you don't pick him up, however if you have him I suggest you keep him. I don't think the Quakes offense will flow through Wondo much longer, but as long as he keeps taking PKs and forcing his way on the end of a couple of fortuitous balls, he's a threat.
Fantasy Letdowns
Juan Agudelo ($8.4): If you haven't done so already, drop him. No doubt in my mind he's going to score goals this season, but after being pushed out wide to allow room for Davies, he's no longer the focal point of the attack. This may end up being better for him, but like I said with Rowe, there are just too many attacking options for the Revs to guarantee consistency out of Agudelo.
San Jose Defense: I wanted to include the Quakes offense in this, but Wondo scored that PK goal so I'm obliged to move him up to the Standouts. Revs doubled the Quakes shots and forced 3 times as many clearances. Depending on Wynne's injury the backline could also face some heat down Cato's side if he replaces him.
Montreal Impact 2 – Orlando City SC 2
Highlights
The highlight is Kaka. That's all I can say about a team that only travelled with 4 subs. Orlando was missing Shea, Ramos, Molino, Rivas…etc. This led to them completely changing their formation to 5 in the back, altering how Orlando plays entirely. Montreal exposed the lack of cohesion in Orlando's backline and went ahead early with 2 goals. However, something in the formation worked and they were able to get two goals with Kaka being involved on both. The goals were more important than a win; because now we know they can actually score from the run of play and Kaka has momentum going forward.
Fantasy Standouts
Kaka ($11.3): His price has risen, but from here on out is when we see the Kaka everyone was excited for. A goal and an assist, coupled with some bonus points, looks good going forward. If you have the cash consider splurging for him
Fantasy Letdowns
Montreal: They should've done better against a team that played with only half of their starters. Ignacio scored on a penalty kick, which was one of two shots he took all game and McInerney scored on a beautiful goal, but that was his only shot, and he appeared mostly invisible prior to that.
New York City FC 0 – Sporting Kansas City 1
Highlights
SKC offense continued to look dangerous, but that's all it did. Despite appearing to be the better of two teams SKC was largely out possessed by NYC 60% to 40% and had fewer shots on goal. The big stories here were NYC being without David Villa and Zusi's departure before halftime… oh and another Ike Opara goal.
Fantasy Standouts
Ike Opara ($7.4): If you didn't listen to me last week, shame on you. I said Ike was a beast. He absolutely dominated fantasy this week. He had a goal, a clean sheet and five bonus points, totaling 17 points. That's absolutely absurd. At $7.4 he needs to be owned.
Fantasy Letdowns
Dom Dwyer ($10.3): Dom is way to expensive to be on your team. 7 points in four games is just poor. He looked dangerous at times, but he hasn't been able to put one away so don't wait for him to do so otherwise you'll regret it.
NYC Offense: They can't be faulted considering they were missing Villa, Nemec and Shelton. I expect almost all of their goals to come through those three. With a favorable matchup against Philly after their bye and a DGW don't be afraid to take another chance on Villa after the bye.
DC United 1 – LA Galaxy 0
Highlights
This was a snoozer. The absence of Keane and Zardes was felt for the Galaxy. Villarreal and Gordon were connecting well early on, Villarreal's replacement on the wing, Husidic, struggled to give good service, so they relied heavily on Ishizaki. The Galaxy defense looked strong despite problems caused by Nick Deleon, who ultimately assisted on the late goal that broke the hearts of the Galaxy fans.
Fantasy Standouts
Nick Deleon ($6.5): The attack seemed to come largely through Deleon who was terrorizing the right side of the field. He was causing so many problems that Arena pulled Husidic back and had Rogers play more defensively. He didn't score any goals, but got an assist. If you really need a cheap option he's a good pick, however I don't like his schedule coming up so look elsewhere if you can afford to.
Omar Gonzalez ($9.2): Omar is a bit more on the expensive side, but he'll rival Opara for biggest beast of the season. Omar was seconds away from posting a clean sheet and putting up 10 points for the round. Without the clean sheet he still put up 6 points with 4 of them being defensive bonus points. With performances like that and the occasional goal, I'll take my chances on him.
Fantasy Letdowns
Jiao Arrieta ($6.6): He was offside 6 times. That's way too many and resulted in him only having one shot on goal. He didn't look inspiring or dangerous and despite a good performance at the beginning of the season Deleon looks to be more dangerous for the time being at around the same price.
LA Galaxy Offense: Yes they should've done better. However, all I care about is fantasy. This means even if they should've done better, it wouldn't have mattered. Gordon could've scored 8 goals and I wouldn't put him as a standout, because come next week Zardes and Keane will be back (hopefully) and Gordon will return to the bench, while Villarreal will return out wide, where I think his true fantasy potential lays.
Columbus Crew 1 – New York Red Bulls 2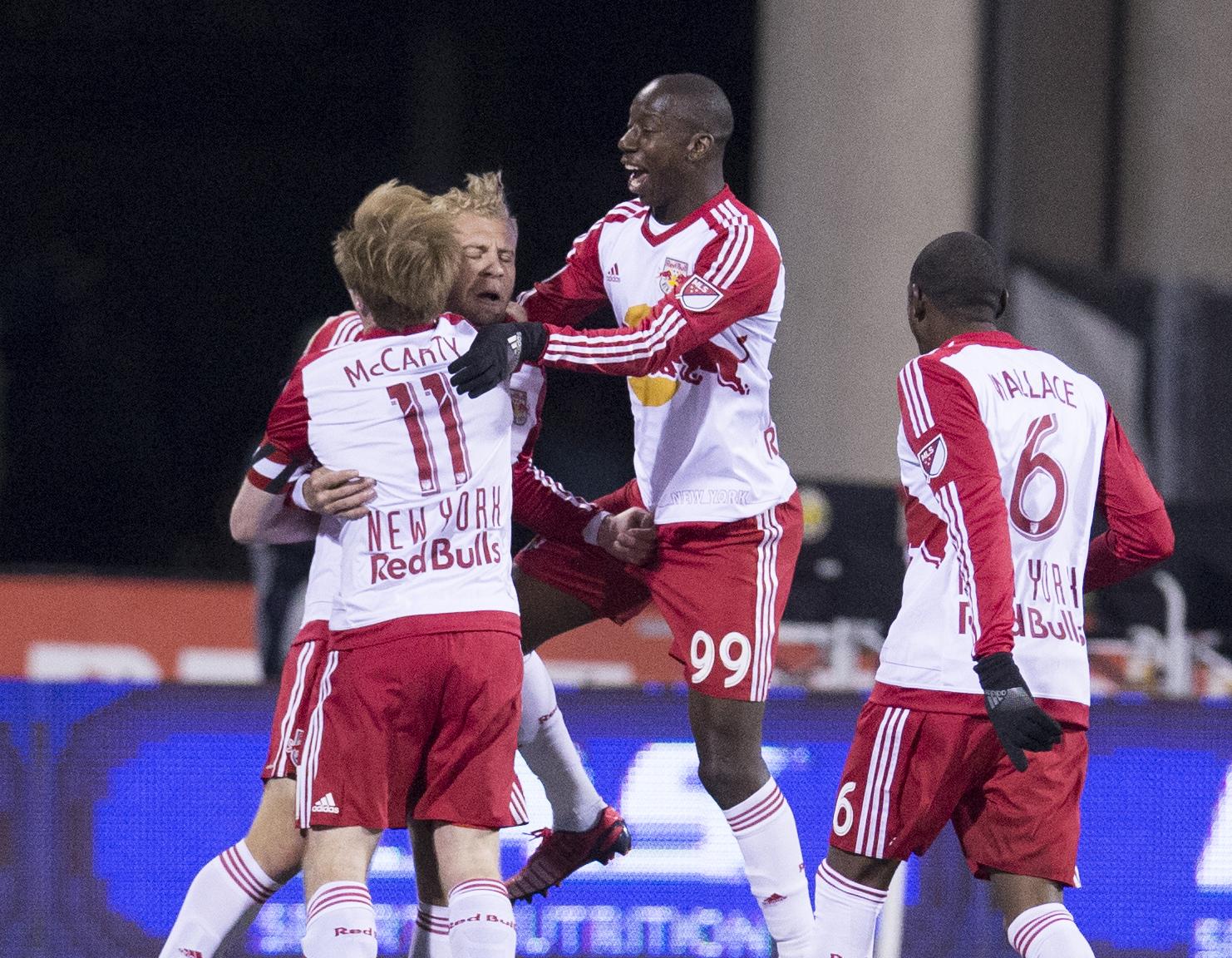 Highlights
New York continued a solid run of form, while Bradley Wright-Phillips continued to prove he doesn't need Henry. The Crew became frustrated early on only able to get 1 shot off on goal. The Red Bulls did well to disrupt the possession oriented Crew's play, which eventually led to the sending off of a frustrated Higuain. Despite being frustrated the Crew were getting opportunities, but just weren't able to finish. The outlook is iffy for their DGW if they're to be without Higuain.
Fantasy Standouts
Bradley Wright-Phillips ($10.9): I do remember saying last week he should be picked up, but if you decided not to listen, now's your chance (Wait till after his bye next week). He's had two good games in a row and continues to be involved in the attack.
Matt Miazga ($5.5): With the center back pairing up for grabs, Miazga has gone in and done a good job earning praise from Marsch. This week he put up 3 bonus points to end with a solid 5 points on the round. Of course he has a bye next week, but after that, at $5.5, he's a solid cheap defensive option going forward on a strong looking New York Red Bulls, there are sure to be shutouts in his future.
Fantasy Letdowns
Federico Higuain ($10.1): He got frustrated and got sent off. He didn't look particularly dangerous prior to his send off, but either way this means he won't be available for the first game in the DGW making him a less appealing option and making it difficult to predict who picks up the slack.
That's my breakdown for the first half of Round 2. What do you think? Did any players jump out at you who you think deserve to be highlighted? Mention them in the comments below, or send me a Tweet and let me know. Also, don't forget to get involved with the get community her at MLS Fantasy Boss and over at /r/FantasyMLS.