Every week I bring my own take on each game and the notable fantasy standouts you should be keeping an eye going into the next week.
Elite: Those who did better than their peers
Value: Those who punched above their weight class in terms of price and who I expect to have potential moving forward
Fluke: There's not always a fluke, but if you see a $4.8 defender with 12 points, that's a good sign they're a fluke. I'll make sense of those types of performances and let you know if you should expect more from them or if they're a one-hit wonder.
Dud: This is obvious. Someone you expected a lot from and got little. If you spend $11.0 on Josef Martinez and he scores 3 points, you're going to be upset. I'll tell you if you should've seen this coming and whether or not it's a trend.
---
This was another not so diverse Double Game Week. Only Vancouver and LAFC had DGWs and virtually all of the MLS Fantasy community had Carlos Vela as captain, leaving little room for diversification with your picks. Your choices will be much more important this week as we have 10 Teams sitting on a DGW. Who are you going to captain? You can't have players from every single team, so which teams do you trust? Let's look at this weekend's action and see if it can help us as we prepare for the upcoming slate of games.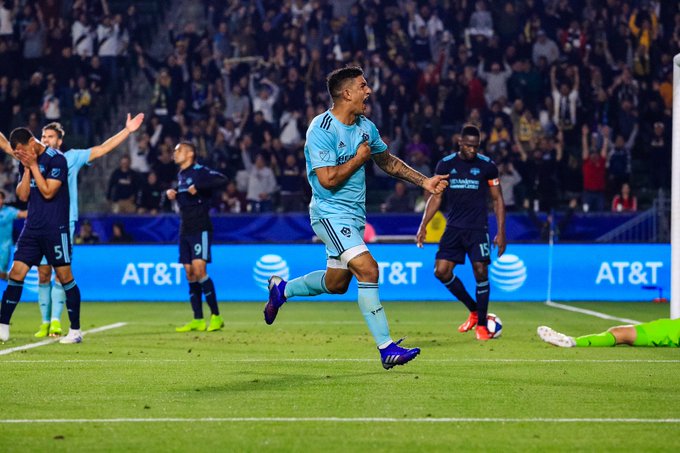 LA Galaxy 2 – 1 Houston Dynamo
One Sentence:
LA Galaxy: Zlatan gets the headlines, but Jona Dos Santos is playing like a man possessed.
Houston Dynamo: Dynamo were unfortunate to lose it late and are still very much a force to be reckoned with as long as Elis stays healthy and in-form.
Fantasy Standouts:
Elite Performers: Jonathan Dos Santos ($10.4) – 13 points: I'll just list his stats for you: 1 assist, 6 tackles, 74 passes, 3 key passes, 3 crosses, 4 interceptions, 16 ball recoveries. That's 8 bonus points. I'll take that in the upcoming DGW please.

Honorable Mentions: Alberth Elis ($10.7) – 10 points

Value: Uriel Antuna ($5.6) – 2 points: Not a great score, but the potential is here. He went 90 min again this weekend and I expect him to go 180 min in the upcoming DGW.
Dud: Romain Alessandrini ($8.8) – 1 point: Alessandrini is a great player, but he's been bit by the injury bug on numerous occasions and even if he by some miracle is ready for the DGW, I won't risk having him in my lineup.
Fluke: Diego Polenta ($6.7) – 11 points: LA Galaxy back line hasn't been inspiring and I wouldn't expect Diego to get goals or involved in the attack regularly like he did in this game.
FC Cincinnati 0 – 3 Real Salt Lake
One Sentence:
FC Cincinnati: RSL is good, but losing 3-0 at home in that manner is not a good look for the expansion side.
Real Salt Lake: Sam Johnson is turning out to be the No. 9 RSL has been looking for and Rusnak is taking full advantage of it.
Fantasy Standouts:
Elite Performer: Albert Rusnak ($10.5) – 15 points: Rusnak may not be expected to score a brace every week, but he'll be at the heart of RSL's offense when it's functioning well.
Value: Sam Johnson ($6.6) – 7 points: Sam appears to be pretty goal dependent in fantasy, but at $6.6 he can be a great value play for a switcharoo.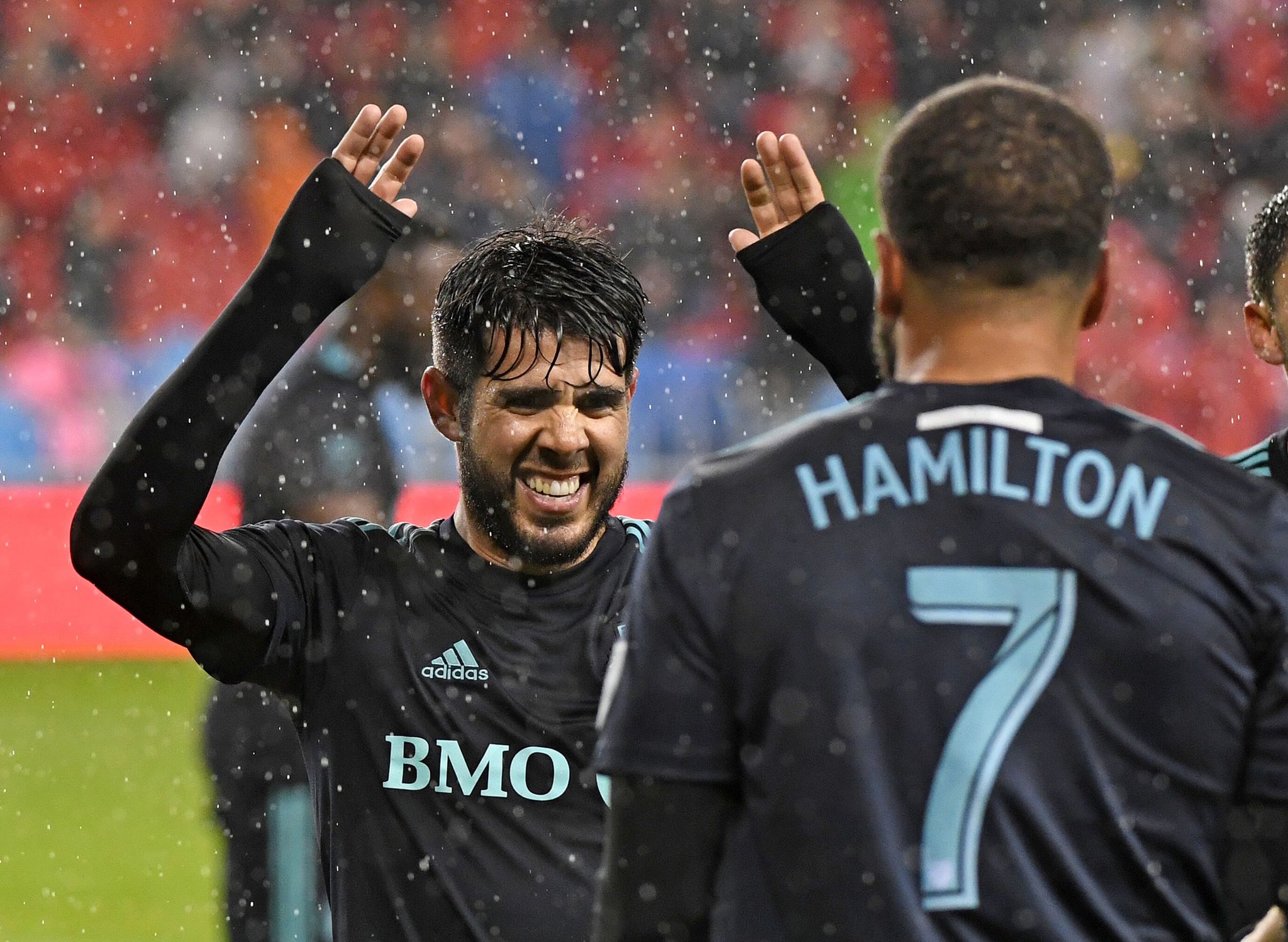 Toronto FC 4 – 3 Minnesota United
One Sentence:
Toronto FC: Alejandro Pozuelo is everything TFC could've wanted, but how will he play now that Jozy Altidore is expected to be out 2-3 weeks?…. No more Jozuelo 🙁
Minnesota United: Defensive depth is clearly an issue for Minnesota. What were you doing Kallman? 
Fantasy Standouts:
Elite Performer: Alejandro Pozuelo ($12.0) – 19 points: 4 goals and 4 assists in 4 games. Those are some Carlos Vela stats. The only concern is won't have Altidore for the next couple games, which leads to my next player from this game, Hamilton.

Honorable Mention: Darwin Quintero ($12.4) – 12 points: One of the most explosive players in MLS regardless of his teams form.

Value: Jordan Hamilton ($5.4) – 11 points: 2 goals off the bench is not bad at all. With Jozy Altidore out for the next couple weeks Hamilton could be the next person to benefit from Pozuelo's super form. Be careful though, as Hamilton may not be able to replicate what Altidore's presence meant to Pozuelo's form.
Dud: Minnesota Defensive Depth: Ike Opara being out was a bigger hit to this team than most may have realized and could spell trouble for the defense, should they lose any of those pieces again.
Chicago Fire 4 – 1 Colorado Rapids
One Sentence:
Chicago Fire: Nico Gaitan is warming up and so are his teammates.
Colorado Rapids: Opare is bad at defending and so is the rest of the team.
Fantasy Standouts:
Elite Performer: Nico Gaitan ($9.2) – 13 points: Nico Gaitan had two assists in this one (probably should've had a goal) and 4 attacking bonus points: 4 key passes and 3 big chances created. Should be considered for the upcoming DGW.
Value: Aleksander ($8.3) – 13 points: 1 goal, 1 assist and always on the prowl. Now that Katai has bigger fish than himself, he's ready to breakout.

Honorable Mention: Djordje Mihailovic ($6.9) – 9 points: He's dropped into more of a No. 8 role to let Gaitan push up the field, but we know he likes to attack and there suddenly may be a lot more room for him to work in.

Dud: Colorado Rapids: We've established the defense is bad, but if they're going to keep up like this, I'm not sure you can count on their offense, even with the likes of Kamara up top (also Benny Feilhaber doesn't even look like he's trying anymore).
Philadelphia Union 3 – 0 Montreal Impact
One Sentence:
Philadelphia Union: It says a lot about your offense when you win 3-0 and your 3 best fantasy players are defenders…
Montreal Impact: I'm not sure a 34 year-old Piatti is enough to make this Montreal team competitive anymore.
Fantasy Standouts:
Elite Performer: Haris Medunjanin ($8.7) – 9 points: Medunjanin appears to be the most consistent player fantasy-wise and was the foundation of the possession with 92 passes. In addition to his assist he had 4 bonus points.
Value: Brenden Aaronson ($6.2) – 3 points: He's still just 18 and very much so growing into this game. However, he's retaining his starting position which bodes well for future growth and always makes him a contender for a switcharoo.
Caution: Philadelphia Union Defense: Philadelphia lost Andre Blake to a groin injury and his ability to keep Philly in a game with a superb save cannot be understated. In addition to blake, Philly lost Kai Wagner to suspension when he picked up a red card late.
Orlando City 1 – 0 Vancouver Whitecaps
A Sentence:
Orlando City: I'm really not sure what to make of this team right now and don't feel safe making any knee-jerk comments, so for now let's enjoy Nani.
Vancouver Whitecaps: They knocked off the best team in the west, but in reality, they should've done better against the makeshift defense Bradley rolled out.
Fantasy Standouts:
Elite Performer: Nani ($10.3) – 10 points: Nani has been instrumental to Orlando's "success" so far this season in a more involved way than many suspected. More Nani please.
Ones to Watch:

Hwang In-beom ($7.4): Hwang is truly the engine, the heart and the soul of this team. Once they start to click, this team will be dangerous I promise.
Ali Adnan ($5.7): Top 3 left-backs in the league and has his hat in the ring for PKs.
Joaquin Ardaiz ($4.6): Everytime he comes on, he unsettles defenses. The 20 years old Uruguayan is still young so Vancouver have been hesitant, but if he is able to play his way into the starting XI, this is a nice price for someone of his potential.
Atlanta United 1 – 2 FC Dallas
A Sentence:
Atlanta United: 22 shots and 71% possession, but yet another game that ends in disappointment for the reigning MLS Champs
FC Dallas: FC Dallas put out a starting lineup with 3 teenagers, a 20 year-old and brought on a 20 year-old to close out the game against the reigning MLS Champs. 
Fantasy Standouts:
Elite Performer: Michael Barrios ($9.2) – 12 points: Barrios is danger. He had 2 assists and 5 attacking bonus points in this game. We talk about the youth a lot, but Barrios is playing his part.
Value: Jesus Ferreira ($6.1) – 7 points: Make that 3 goals in 5 starts for the 18 year-old.
Dud (Fluke?): Atlanta United Offense: I really thought this was going to be the game for Atlanta to kick start its campaign…. It wasn't. But it has to happen soon… right?
Columbus Crew 1 – 3 Portland Timbers
One Sentence:
Columbus Crew: Despite the Crew's strong start, the reality is they're lacking something.
Portland Timbers: Put Diego Valeri, Sebastian Blanco and Diego Chara on a field and eventually you're going to win some games (despite Jeff Attinella's attempts to sabotage the game)
Fantasy Standouts:
Elite Performer: Sebastian Blanco ($9.7) – 9 points: 2 assists and win is a good outing for the Argentine.
Dud: Columbus Defense: Gaston Sauro, Zak Steffen, Mensah. Columbus Crew has been pretty solid defensively, but the reality is they're down two starting full-backs and it's going to continue to hurt them defensively.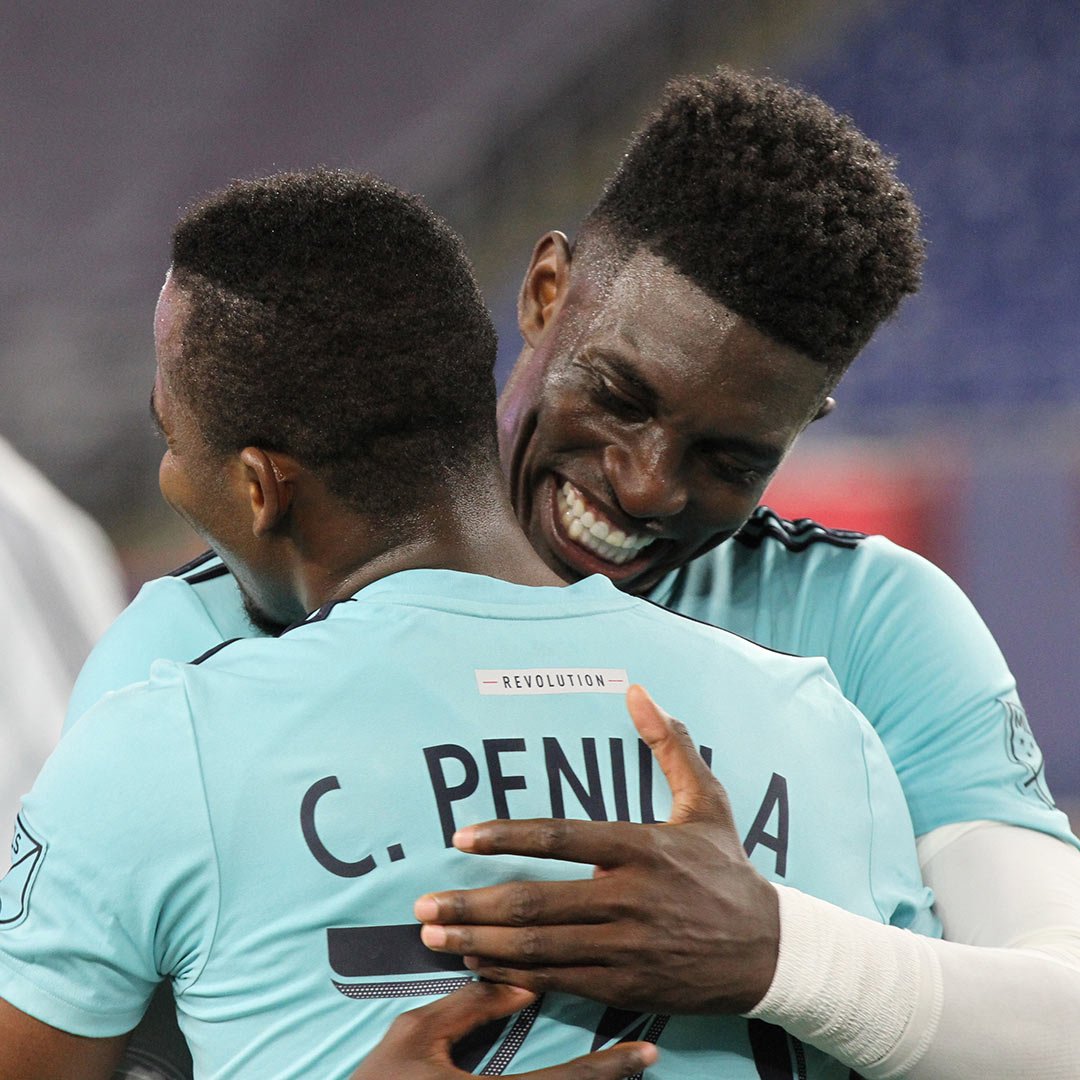 New England Revolution 1 – 0 New York Red Bulls
One Sentence:
New England Revolution: It wasn't pretty, but it was a much needed win.
New York Red Bulls:
Fantasy Standouts:
Elite Performer: Edgar Castillo ($5.6) – 10 points: Edgar was massive for New England and brought so much quality to the left side of the field. They're a different team with him at LB. New England at home against MTL in their DGW is an interesting prospect is all I'm saying
Value: Connor Lade ($4.2) – 7 points: 5 defensive bonus points: 4 tackles, 9 clearances, 7 interceptions, 6 ball recoveries and he's ONLY $4.2
Caution: With the DGW coming up we all want players that will play as close to 180 min so we have more chances at points. With the Revs, outside of Carles Gil and Anibaba, I can't confidently say who goes 180 so choose with caution.
San Jose Earthquakes 4 – 1 Sporting Kansas City
One Sentence:
San Jose Earthquakes: San Jose fans rejoice! That was fun.
Sporting Kansas City: I still think they just need a bit of time to recover from the CCL blues.
Fantasy Standouts:
Elite Performer: Danny Hoesen ($12.7) – 13 points: A brace for a team that is trying to keep from drowning in the west.
Value: Magnus Eriksson ($7.2) – 13 points : I'm not ready to say that was phenomenal from Magnus, considering his goal was a bit of a fluke and his assist was all from Shea Salinas' phenomenal finish, but he's one to watch for a switcharoo.
Value: Shea Salinas ($5.4) – 9 points: Defender playing as a winger and getting involved in the attack. I'll beat this drum all day. If they had kept the clean sheet, that would've been 14 points.
Value: Jackson Yueill ($5.9) – 9 points: He's been a bit liable on defense, but had a lovely assist against SKC.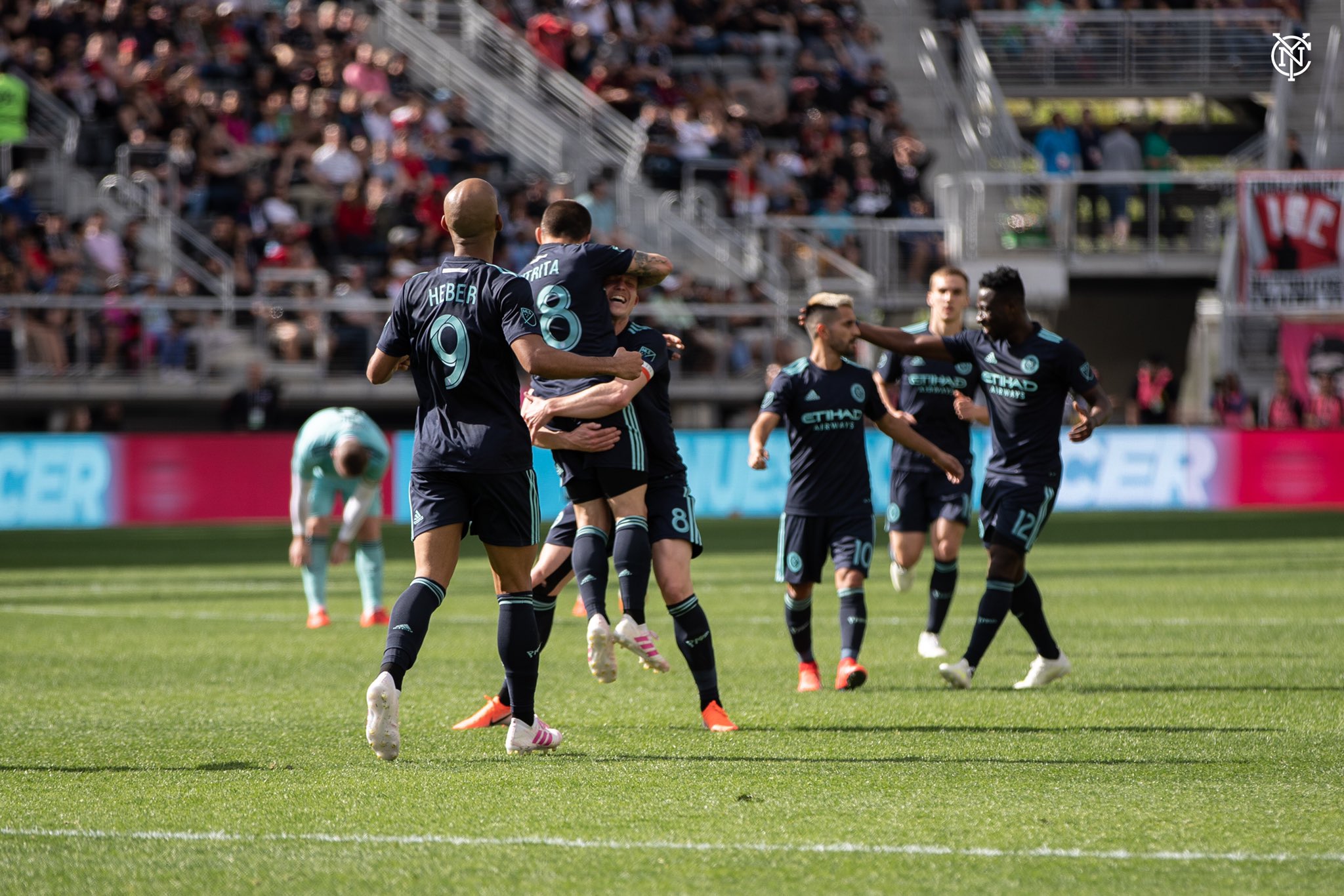 DC United 0 – 2 New York City FC
One Sentence:
DC United: I'm not quite sure if DCU was overhyped or if NYCFC were that underhyped, but we need to see better from DC either way.
New York City FC: We all were thinking the same thing, NYCFC needs a No. 9 and it looks like they got it in Heber.
Fantasy Standouts:
Elite Performer: Heber ($7.8) – 10 points: 1 goal, 1 assist. That's the Heber NYC have been waiting for. That's not a bad price either when you're building your team for the upcoming DGW.
Value: Ronald Matarrita ($6.3) – 12 points: He's not exactly "cheap", BUT NYCFC has two home and Matarrita loves to get into the attack earning an assist this weekend.
Caution: Mitrita ($8.5) – 6 points: He came off in the 48th minute with a twisted ankle, so he's not likely to go 180 this week, but keep an eye on him.
Fluke: DC United: I know I said DC needs to do better, but they were playing their 18 year old defensive midfielder instead and also were away at a difficult to play in Yankee Stadium. Not to mention both Rooney and Acosta still managed 5 bonus points without a goal.
LAFC 4 – 1 Seattle Sounders
One Sentence:
LA FC: Ignore the midweek result as that was not anywhere close to the full strength squad. This is LAFC and they're very good.
Seattle Sounders: Don't underestimate the absence of the best defender in MLS for the last decade, Chad Marshall. Not to mention both Ruidiaz and Bruin being out forced a system change. The depth is still worrying though.
Fantasy Standouts:
Elite Performer: Carlos Vela ($14.3) – 14 points: 10 goals, 5 assists in just 9 games. He's averaging over 11 points a game.

Honorable Mention #1: Eduard Atuesta ($9.2) – 15 points: 1 goal, 1 assist, 3 attacking bonus points, 2 defensive bonus points.
Honorable Mention #2: Mark Anthony-Kaye ($9.8) – 17 points: 3 assists in the last game. In his last 4 starts he's averaging over 10 points a game.

Value: Harry Shipp ($4.1) – 7 points: Harry Shipp is a veteran, if he's going to be in the lineup, he's definitely worth a look as cheap access into a quality Sounders side.
Dud: Diego Rossi ($10.2) – 3 points: In a game where the offense flourished, it's troubling that Diego wasn't able to come away with more points.