New England Revolution 2 vs. New York Red Bulls 1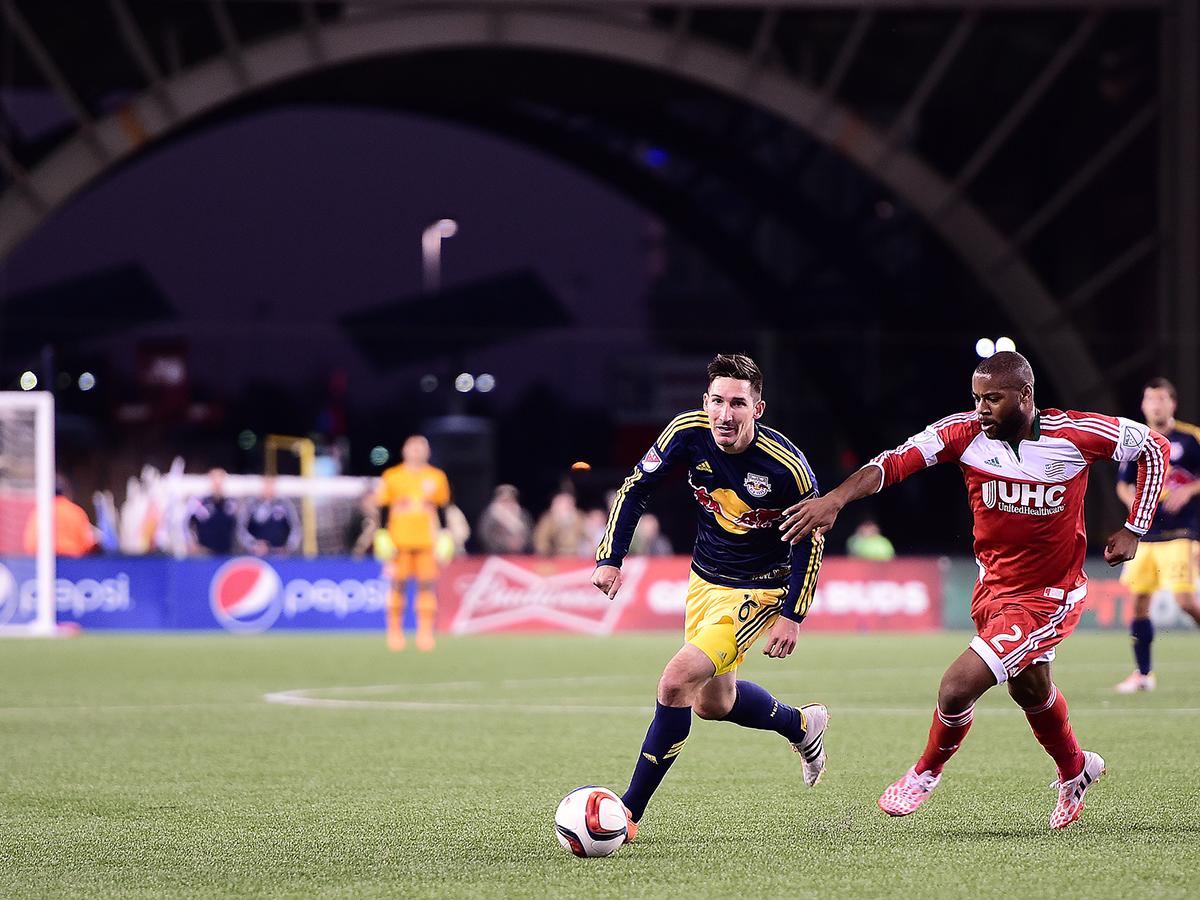 Highlights
The Red Bulls midweek struggles continued when they faced the Revs this weekend and consequently so did everyone's fantasy problems. BWP put up a big 1 point after sitting this game and the only consistent performer ended up being Sacha Kljestan. Meanwhiel the Revs continued their tear of form. Davies hunger for goals was made evident when he pounced on a Woodberry cross and Bunbury's return to lineup meant only good things for the Revs.
Fantasy Standouts
London Woodbery ($5.0): He's a starting defender on a defensively strong team. There may have been concern for his ability to find points elsewhere, but after watching this week's game; I've been sold on him. He proved he can get into the attack by providing service from wide, but what may have gone unnoticed was that he also goes up for corner kicks. The Revs center backs are on the smaller side meaning Woodberry does double duty and will have plenty of chances going forward.
Charlie Davies ($8.8): You can only have one forward from the Revs so you have to pick between Agudelo and Davies. That's a tough decision given Agudelo's undeniable skill, however, Davies has score 7, 9, and 7 in his last 3 games while Agudelo has run hot and cold, with 2, 13, and 2. With the Revs having a DGW in week 12 you may want to look at some Revs players.
Fantasy Letdowns
Red Bulls Defense: The DGW raised a lot of questions over the Red Bulls back line and didn't help us figure out much about the Red Bulls offense. What does seem to be clear is Miazga isn't losing his starting spot so easily, however he will almost certainly be in the U20 World Cup at the end of this month. Basically what this means is I don't expect the chemistry to be there yet for the defense. With NYC and FC Dallas coming up I don't expect clean sheets. While the Red Bulls defense seems to be out of order the offense will be ok. BWP sat the second game along with Lloyd Sam. When these two are in from the beginning I expect there to be goals, especially against their crosstown Rivals, NYCFC. Don't feel a need to drop BWP just yet.
LA Galaxy 1 vs. Colorado Rapids 1
Highlights
Neither side looked exceptional in this game. Keane's absence is becoming a problem for a Galaxy team now reliant on lifelines from Alan Gordon. LA had over 60% of the possession and only managed 9 shots and 3 on target, while the Rapids managed 5 shots and 2 on target. Keane's impending return raises questions for what to expect from the ensuing DGW. The interesting lineup choices for this weeks game also make it seem like Arena was preparing for the DGW, but its still hard to tell. Many people are certainly hoping Ishizaki being on the bench was a way to get him in for 180 min in this upcoming DGW. Since LA is the second game we may have to guess, but hopefully some news on Keane will come out this week.
Fantasy Standouts
Gabriel Torres ($7.5): Torres holds the next highest point total on the Rapids offense with 42 fantasy points. He provided the finishing touch the Rapids have been looking for, however be wary of his lack of production elsewhere. I like his chances against San Jose next week, but he may be one to keep in mind for the DGW, don't pick him up now.
Rapids Defense: The Rapids have San Jose this week, which Wiebe has heralded as his lock of the week. I agree with him, especially with the bargains that litter the defense. Sjoberg looks to have regained control of his starting spot and the outside backs come cheap as well.
Omar Gonzalez ($9.5): Gonzalez's prices has risen a bit much, but for good reason. He is the highest scoring defender and has the third highest score overall. You can't argue with his numbers. He will score goals and will get insane amounts of bonus points. He's a must have for the upcoming DGW if you have the salary cap for it.
Bradford Jamieson ($5.6): Bradford Jamieson will play at least one of these games if not both. He could be as good of a prospect as Ishizaki and for 2 million less. With only 2% selecting him he could be a good differential for the upcoming DGW, especially if he comes away with the goals. He'll be on my team.
Fantasy Letdowns
Dillon Powers ($7.9): He had a phenomenal mid week game, but couldn't follow up. The Rapids just couldn't seem to get into the final third with what limited possession they had. The Rapids have another DGW in GW13, so he may be worth holding onto with San Jose up next. He still leads all midfielders with 45 fantasy points.
Robbie Keane ($11.1): He's here because he's about to miss out on his DGW. What a bummer.
Stefan Ishizaki ($8.0): I don't know why he started on the bench, hopefully it was because he's going to play 180 in the upcoming DGW, but if there are other reasons this could be bad news for Ishi owners in the DGW.
Portland Timbers 0 vs. Vancouver Whitecaps 0
Highlights
Diego Valeri returns and Rivero slows down. With Diego Valeri coming back into the fold there will be major implications for the Timbers offense, which means everyone needs to completely reevaluate them once he begins to start. That being said neither attack was convincing this week as they played to a scoreless draw. I'm about ready to drop Rivero even with the Union coming up. His scoring isn't sustainable and he's shown that the past 3 games. Hopefully he doesn't make me eat my words.
Fantasy Standouts
Kendall Waston ($8.8): If you have him keep him against the Union this week, but he's approaching Omar price range without the same output. He's definitely the best player on the Caps defense with Beitashour out, but like I said, pricey.
There's not much else to this game considering the rehaul that will happen within the Timbers offense. Nagbe's role and fantasy value will change as well as guys like Fanendo Adi. Pay attention to their game next week and Dare to Valeri if you have the balls. The Impact could be in for a rough welcome home to MLS party when they face the Timbers.
Fantasy Letdowns
Steven Beitashour ($7.5): looks like he may be out awhile, go ahead and drop him.
Both Offenses: I explained why for the Timbers and the Whitecaps seem to be slowing. Don't be tempted by the Caps seemingly easy game against the Union next week.
Sporting Kansas City 1 vs. Chicago Fire 0
Highlights
Despite lopsided possession in favor of SKC, the game was even. Neither side had major scoring chances and it would take a Paulo Nagamura header to give SKC life. Accam's red card in the 89th minute, all but signaled the end of the game for the Fire. The Fire has several chances throughout, but just couldn't finish. It may be the Shaun Maloney needs to get over himself and give Shipp back responsibility for corner kicks and free kicks, but that probably won't happen anytime soon. Feilhaber continued to prove he is the must have player of the entire league. While he didn't score himself, that doesn't mean his team shouldn't have scored off of his chances created.
Fantasy Standouts
Benny Feilhaber ($9.7): He has 67 points. In 9 games this season he's score less than 6 twice. In the 3rd week he scored 3 and the 6th week he scored 5. His last 3 games have been 7, 12, and 6. If there's one player in the league you could possibly label consistent, it would be Feilhaber. You may not have the transfers to get him right now, but you'd be foolish to ignore this kind of form.
Tim Melia ($4.7): Melia may be the bargain goalkeeper to snatch up. He proved he's got what it takes this week against the Fire. He cut out a lot of dangerous chances for the Fire and proved it with the bonus points he racked up this week.
Fantasy Letdowns
The rest of the SKC offense: A holding mid substitute came on and scored a header for SKC's only goal…
David Accam ($8.3): I was really hoping to put this guy in the standouts, but the Fire need to get going first. Do Prado is not the scoring threat the Fire need its Accam. He provides a threat similar to Castillo with his pace and positioning. Several times Accam was in, but balls were played too late or his run was just a tad too early. If the offense gets going Accam may have a huge role to play, but it may have to wait a week if his soft red holds. He may not be come relevant again until the DGW in GW14.
New York City FC 1 vs. Seattle Sounders 3
Highlights
Clint Dempsey and Obafemi Martins. Bear with me people I'm a Sounders fan. That was fantastic. The Sounders didn't necessarily dominate the game, but when Oba and Dempsey are in sync it doesn't matter. To be honest the two of them could've had more. NYC didn't play horribly, but it was clear they were missing star quality. The team as a whole did well, but benefited greatly from the introduction of David Villa and exciting new player Kwadwo Poku. These two, given a whole game, looked like they would've caused a lot of problems, but that's speculation and something to look for in the derby next week against New York Red Bulls.
Fantasy Standouts
Clint Dempsey/Obafemi Martins ($11.6): With how pricey the both of them are, you probably can't pick up both. However, I think you need to have one. I know the Crew have at home don't seem like the best matchup, but the Sounders do have DGW coming up soon and Martins and Dempsey are the attack, they'll find a way to score. Also outside of these two there's really not many options for fantasy value on the Sounders.
Fantasy Letdowns
Lamar Neagle ($8.6): For those of you who thought Neagle was a sneaky pick for the Sounders offense, you thought wrong. He may be able to benefit from the spotlight being on Dempsey and Martins, but not consistently. He could be a good pick when Dempsey is gone on national duty, but not right now.
New York City FC: There are no reliable options right now. No consistent scorers. No consistent defensive contributors. Maybe with the return of David Villa we'll see some consistency in the attack and maybe Kwadwo Poku will prove an interesting fantasy option. However, all we can do is speculate and unless you absolutely love the idea of taking risks, you shouldn't go for NYC right now.
That's the breakdown for the first half of Round 9. What do you think? Did any players jump out at you who you think deserve to be highlighted? Mention them in the comments below, or send me or Tyler a Tweet and let us know. Also, don't forget to get involved with the get community her at MLS Fantasy Boss and over at /r/FantasyMLS.